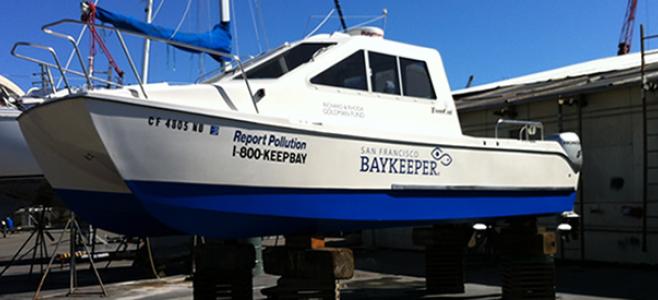 Which boat bottom paint causes the least pollution and still keeps the hull free of sea growth? Baykeeper just repainted our patrol boat, and answering this question wasn't easy.
Boat hulls need to be painted with specialized coatings to keep algae, barnacles and other sea life from attaching and growing on the hull, because sea growth can damage the boat and slow its speed. Most hull paints are formulated to wear off slowly, which releases substances that are poisonous to sea growth. A common ingredient is copper, a heavy metal that is toxic to fish and causes salmon to lose their ability to find their spawning streams.
The last time we painted the Baykeeper boat hull, we chose a slick epoxy finish that contained no metals or other toxic chemicals to kill microscopic growth on the hull. Any growth was supposed to get washed off by frequently running the boat at high speed. Unfortunately, the epoxy finish didn't work for us, in part perhaps because the boat went out on patrol only weekly. Although we hired a diver to clean the boat every three weeks, the hull still collected a shaggy coating of algae, barnacles and seaweed.
Below: The epoxy finish we chose last time didn't keep sea growth from attaching to the bottom of the Baykeeper boat.
Epoxies have to be cleaned carefully; if the paint gets scratched during cleaning, growth can get a start in the scratches and then take over the hull. We were supposed to clean with nothing more abrasive than carpet, but ended up needing to use a knife to scrape off the growth. Knife scratches then caused more growth to attach. A badly coated boat burns more fuel. In an effort to prevent pollution in the Bay, we were causing another kind of environmental damage.
In a study on boat paints in San Diego, the epoxy we used performed so poorly in the initial stage that it was removed from further research. Although San Diego conditions are different from ours in San Francisco Bay, this study told us that others also had trouble with this paint. We had actually used it once before and it performed much better. The epoxy may have done badly the second time around because we applied it ourselves on a sunny day, and it hardened into subtle ridges that could have allowed growth to get started.
New paint could not be applied on top of our epoxy finish; it had to be removed, which turned out to be expensive and time-consuming. Baykeeper also wanted to be sure our bottom paint was removed in a Bay-friendly manner, since bottom paint removal is a common source of pollution in San Francisco Bay. Dust and paint chips can blow directly into the Bay, or fall to the ground and later, during rainy weather, get washed into the Bay or into storm drains that lead to the Bay. KKMI in Point Richmond, where we had the boat repainted, manages paint removal waste using Best Management Practices that help keep toxic dust and rain water separate. The facility's storm water treatment system removes most metals that find their way into storm runoff. Click here for more on preventing pollution from boat yards.
KKMI had to try several increasingly more aggressive methods to remove our boat's old paint. A vacuum sander couldn't even penetrate the hard coating. The solution was a 60-grit power sanding that doesn't work with a vacuum sander. Tenting had to be installed over and beneath the boat to capture paint dust and flakes.
Below: Sanding old bottom paint off the Baykeeper boat, under tenting to keep paint flakes and dust from polluting the Bay.
Meanwhile, Baykeeper staff scientist Ian Wren investigated various alternatives for a new coat of hull paint. First we ruled out any products containing copper. Choosing among paints that are marketed as environmentally friendly, we considered, but decided not to use, Econea, a relatively new compound. The results of a laboratory toxicity study on its main ingredient, tralopyril, caused us to rule out its use in the Bay.
The paint we chose, Seahawk's Mission Bay, contains 4% pyrithione zinc and works by slowly wearing off the hull, leaching zinc, which is toxic to sea growth. We chose this paint because zinc-based hull paint contains a lower concentration of the metal, while copper-based paints can contain up to 70% copper. While both metals are toxic to marine species other than hull growth, zinc is less toxic to most species. Our paint choice means the Baykeeper boat will have to be repainted in about two years, versus four years for our previous paint. A simple sanding should be enough to prepare the bottom for up to four additional coats of paint.
Baykeeper is committed to maintaining our boat in the least-polluting way we can, and we'll let you know how this round of paint works out. If you have experience with low-pollution hull paint, please let us know how it went for you by contacting info@baykeeper.org.