| | |
| --- | --- |
| Monthly Update for October 2018 | |
Preparing the Bay for sea level rise with ShoreView
Sea levels are expected to rise in San Francisco Bay by at least three feet over the next 80 years. Many people around the Bay Area—including those responsible for local shoreline adaptation—don't know what that will mean.
Using Google technology, Baykeeper created ShoreView, a new tool for planning for sea level rise and climate change in the Bay Area. "ShoreView is designed to empower residents and decision-makers to envision the best ways to prepare for sea level rise in the Bay," says Sejal Choksi-Chugh, Baykeeper Executive Director.
The website exposes the critical issue of contaminated toxic lands around the shoreline that will be inundated by sea level rise, spreading pollution throughout the Bay.
ShoreView also recommends specific adaptation steps needed to protect essential infrastructure, housing, and habitat from flooding.
ShoreView map depicting industrial sites at risk of flooding with sea level rise
San Francisco water agency sides with Trump, against the Bay's wildlife
The agency that manages San Francisco's water, the SFPUC, has teamed up with the Trump Administration to fight California's attempt to protect vital fresh water flows to San Francisco Bay.
Trump administration officials and their allies in industrial agriculture are trying to block state plans that would provide minimal amounts of fresh water for fish, wildlife, and habitat in the upstream rivers that feed into San Francisco Bay. Surprisingly, the SFPUC has joined their ranks to oppose more fresh water for the Bay-Delta environment.
Less freshwater in the system is a death knell for Chinook salmon, Delta smelt, and other endangered species that rely on healthy levels of fresh water to survive.
"Sucking the watershed dry isn't sustainable," says Baykeeper Staff Attorney Ben Eichenberg. "San Francisco, like all of California, can conserve water and increase efficiency so there's enough water for both people and wildlife."
Baykeeper's scientists and policy advocates have been actively engaged in supporting the state's plan for more flows. The San Francisco Board of Supervisors is considering a resolution to challenge SFPUC's position and declare that the city supports saving fish and protecting our rivers.
If you live in San Francisco, we urge you to contact your Supervisor today to tell them that you support more fresh water flows for a healthier San Francisco Bay!
Read the SF Chronicle's editorial on SFPUC and fresh water flows.
Photo by the California Department of Water Resources
The Bay's sand should be protected—not sold for a profit
A multinational corporation is mining the Bay's sand to sell it for profit, and it's harming Ocean Beach and other Bay Area beaches and wetlands.
California is currently allowing Lehigh Hanson, Inc., to harvest 1.5 million cubic yards of Bay sand per year, far outpacing the amount that naturally replenishes the Bay floor. Sand mining reduces the supply of this important resource for areas like Ocean Beach, which is rapidly eroding.
Does the State have the right to sell the Bay's sand at unsustainable levels? No, it doesn't. Baykeeper's lawyers were in court last week to defend the public's right to the sand and argue that gutting the Bay's sand supply is a violation of the rights of Californians, who own the state's natural resources.
"The sand that feeds the shore, like the shoreline itself, belongs to the public—and shouldn't be sold off at levels that harm the Bay and local beaches," says Erica Maharg, Baykeeper Managing Attorney (pictured, speaking to reporters at the Court of Appeal in San Francisco).
San Francisco: Vote for Measure A Seawall Repair
San Francisco's Embarcadero seawall—the manmade barrier between the city and the Bay—is crumbling.
Built in the 1850s, the Embarcadero seawall can't withstand another century of wind, rain, and tide surges, particularly as sea levels rise and storms intensify. And in the event of a major earthquake, the seawall could collapse entirely.
Baykeeper generally recommends that cities use natural elements wherever possible to adapt to flooding and rising tides. In this case, however, a fortified seawall is the only viable way to protect this major population area, as well as $100 billion worth of property and infrastructure, including the roads, sewer lines, businesses, and the BART and Muni transit systems that are critical to San Francisco and the larger Bay Area.
Prop A would authorize $425 million in bonds to pay for repairs and upgrades to the Embarcadero seawall. Baykeeper urges San Francisco voters to say yes to Proposition A on election day, November 6.
Read more about San Francisco's Measure A to fund seawall repair.
Map courtesy of the Port of San Francisco
San Jose: Vote Yes on Measure T for Coyote Creek, Guadalupe River & the Bay
San Jose's creeks and rivers have some of the worst trash and bacteria pollution of any city in the Bay Area. When Baykeeper first uncovered San Jose's high pollution runoff several years ago, the city wasn't doing enough to address the root causes related to their faulty storm water system.
But things are changing. Baykeeper's legal team used the results of a two-year investigation to win a landmark Clean Water Act agreement with the city in 2016. We've been working with the city ever since to institute changes to protect Coyote Creek, the Guadalupe River, and San Francisco Bay from the trash and bacteria pollution coming from city storm drains.
And now San Jose voters will get a chance to support healthier waterways under Measure T. Measure T would approve funding for a range of projects, including $25 million to improve storm drain infrastructure in ways that will reduce water pollution, recharge groundwater supplies, and beautify the city's landscape. These upgrades will stem the flow of trash and bacteria contamination into the Bay watershed—and make San Jose a greener, cleaner city!
Read more about San Jose's Measure T.
Photo by Peter Thoeny, Flickr/CC
A victory for protecting people who eat fish from the Bay
People who eat fish caught in San Francisco Bay are exposed to harmful substances because polluters regularly contaminate the Bay with dangerous substances like mercury, dioxins, and PCBs.
Despite the risks, regulatory agencies have never set standards for toxic substances in the Bay with the goal of protecting the communities that eat the most fish from the Bay—the native tribes who follow traditional fishing practices and people who fish to feed themselves and their families.
Now, as a result of Baykeeper's dedicated advocacy, that will change. Over the last decade, our policy team submitted advocacy letters, led meetings, and testified before the local water agency about the need to prioritize the safety of people who eat the most fish caught in the Bay. And the agency finally agreed.
Baykeeper will continue advocating to ensure that this change is implemented to make the Bay safer. For example, when the agency considers limits on the levels of toxic substances that industrial facilities are allowed to discharge into the Bay, Baykeeper will now have one more point of leverage to advocate for stronger pollution limits.
Read more about our advocacy to make Bay fish safer to eat.
Photo by Lance Shields, Flickr/CC
Volunteers pitch in to stop trash all around the Bay
To get in the Halloween spirit, we held a costumed cleanup in Oakland last week. Volunteers on kayaks, paddleboards, and the land removed so much trash that the city of Oakland had to send a second garbage truck to pick it all up!
Earlier this month, we celebrated Bay Day with Sports Basement and the Lake Merritt Joggers & Striders club with a fun run (pictured, above) and shoreline cleanup along the Berkeley Marina. And for Coastal Cleanup Day in September, volunteers cleared hundreds of pounds of trash from India Basin Shoreline Park in San Francisco.
That's a lot of trash that won't be polluting the Bay. Thank you to all our wonderful cleanup volunteers!
Click here to see Baykeeper's Facebook album of photos of our cleanups.
Photos by Roger Cunningham and Sienna Courter
10Fold Media SharkTank to benefit Baykeeper
On October 25, 10Fold Communications will hold its 8th annual Media SharkTank in San Francisco, and the proceeds will benefit Baykeeper's work to defend San Francisco Bay.
Executives of Bay Area companies will have three minutes each to test their media pitch in front of a panel of business and tech journalists for expert feedback.
And since proceeds support our work to stop polluters, this SharkTank will benefit the actual sharks that live in San Francisco Bay.
  Baykeeper on patrol
Earlier this month, from our patrol boat, the Baykeeper team observed a company in Alameda dumping construction waste directly into the Bay. We reached out to the company to bring it to their attention and make sure that they change their behavior. "It's illegal for companies to treat the Bay like a trash can," Baykeeper's Managing Attorney Erica Maharg points out. "Sometimes they need a strongly worded reminder."
When we're on patrol, Baykeeper monitors for boats that pollute the Bay. We recently spotted a boat at a holding facility that was removed from the Bay because it was illegally anchored in San Francisco's Aquatic Cove for several months earlier this year. After receiving reports that the boater had been dumping raw sewage into the Bay, Baykeeper advocated for the boat's removal, and authorities impounded the vessel. Now it is no longer polluting the Bay.
One of the perks of going out on boat patrol is seeing the Bay's beautiful wildlife. Below is a picture taken from aboard the Baykeeper boat of a night heron near the San Francisco shore, captured by our volunteer photographer, Robb Most.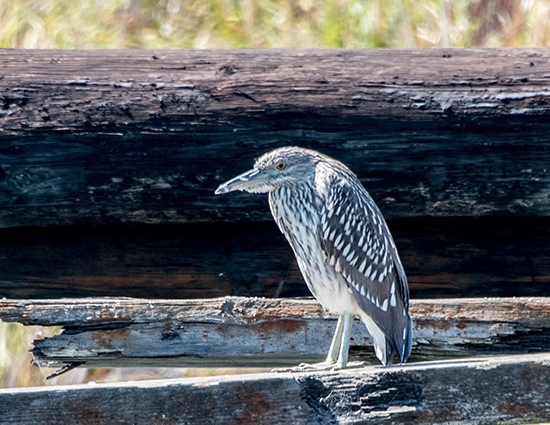 Photo at top by Roberto Soncin Gerometta
Empowering decision makers to prepare for sea level rise in the Bay